on the Steigelfadbalm-Dossen
The Swiss Flag of Vitznau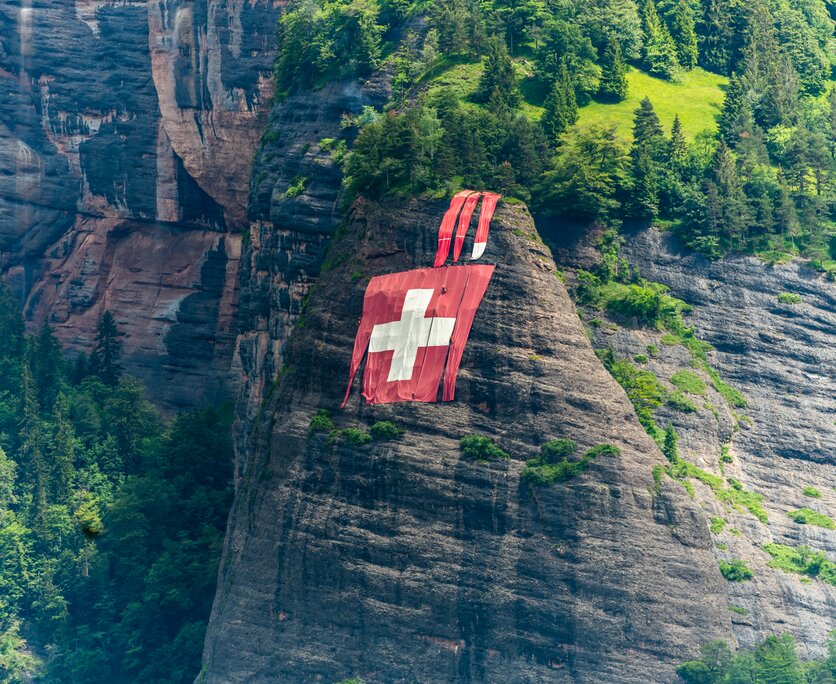 S
Proud Swiss Landmark on the Rigi Massif
Every summer the Swiss flag is hung upon the Steigelfadbalm-Dossen, a large rocky outcrop on the Rigi massif. Unfurled as a landmark over Vitznau, the flag reflects that it the village remains down-to-earth, but is always forward-thinking.
Key Facts about the Swiss Flag
The original size has almost tripled to date and always kindles the pride of the Vitznauers.
Five facts about the Swiss flag in Vitznau:
Size: 31 x 31 m
Weight: 750 kg
Installation Time: one day (on pre-prepared steel cable scaffolding)
Hanging Period: usually end of July until end of August or early September
Organisation und Installation: Team of 20 Volunteers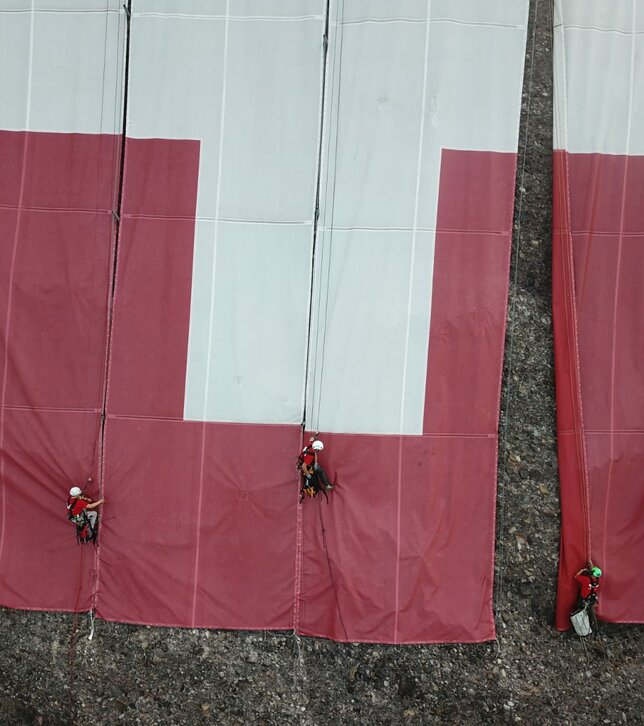 1986 – the first Swiss Flag on Steigelfadbalm-Dossen
It all began with an idea from climbers Röbi Küttel and Flavio Huber. Thrilled at their inaugural ascent of the Steigelfadbalm-Dossens and the wonderful view they found there, they decided to give the rock a special emphasis.
Without further ado, a Swiss flag was fashioned from a 12x12 meter cloth, which was finally attached to the Steigelfadbalm-Dossen one day before August 1, 1986. The project took a whole day, but the effort was worth it. Everyone was thrilled with the result. However, due to lack of sponsors, the flag was not reinstalled in the following years.
It wasn't until six years later that she fluttered again from the ledge, this time at a size of 16x16 meters. But again, it was a one-shot deal. Finally, since the year 2000, the flag has returned to its place every summer.
2000 – the Return of the Swiss Flag 
No expense or effort is spared in Vitznau to raise the flag – despite a few interruptions to reassemble. It was destroyed by the wind in 2000 and accidentally thrown away in 2001. In 2006 she shared her place with the Brazilian flag, due to the World Cup in Germany, for which the Brazilian national team chose Weggis as the training location. To greet the team, a Brazilian flag was raised next to the Swiss flag.
The Swiss Flag Today
Im Jahr 2020 wurde die Fahne zum 20. Mal aufgehängt. Ein grosses Fest blieb dem Wahrzeichen wegen der Corona-Pandemie zwar verwehrt. Die Freude war trotzdem ungetrübt, denn für die Einheimischen ist sie ein Ausdruck für Kreativität und für den Mut, Herausforderungen anzunehmen. Sie motiviert zur Überdurchschnittlichkeit, zu Weitsicht, Toleranz und auch zur Freiheit.
In 2020, the flag was hung for the 20th time. A proper celebration for this landmark was made impossible by the coronavirus pandemic. And yet the joy was undiminished, because for the locals, the flag remains an expression of creativity, of courage to embrace challenges, and of farsighted, tolerance, and freedom.