The Wonder of Steam Transport around Vitznau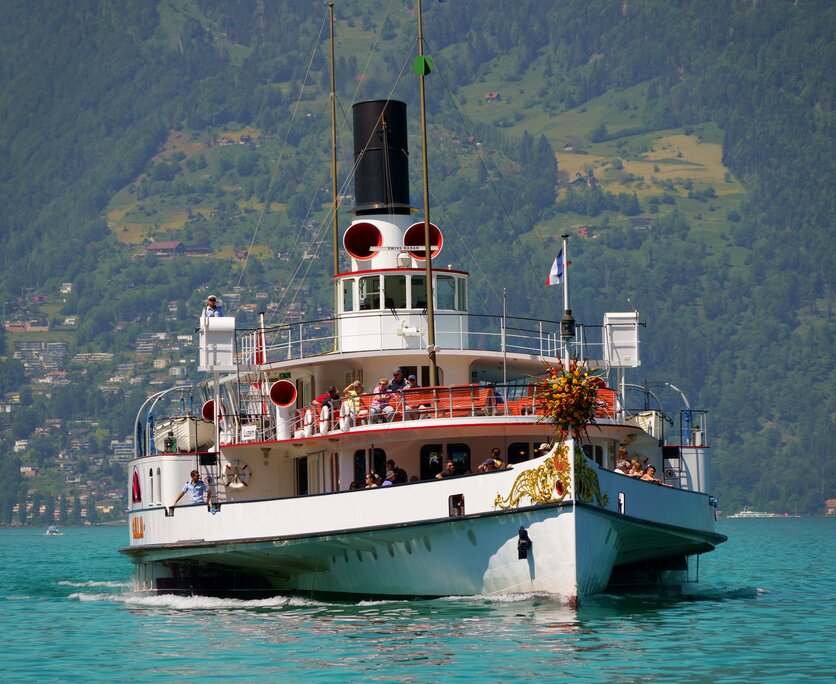 N
Nostalgia and Swiss Nature 
Glide across the idyllic Lake Lucerne in a steamboat and ride the oldest cogwheel locomotive up the Rigi: only in Vitznau are such experiences possible. A true Paradise for nostalgic journeys with steam-powered transport.
Swiss Museum of Transport: Fun Facts about Steam Locomotives
The Swiss Museum of Transport in Lucerne divulges fascinating insights into the workings of steam. The ride there is an experience in itself: the steamboat brings visitors to a designated dock only a few steps away from the museum entrance. Inside, a lot is always going on. Facts about steam propulsion are engagingly conveyed: for example, a longitudinally dissected steam engine demonstrates how coal becomes energy for locomotion.
Rigibahn: Up the Mountain on the Steam Locomotive
The Rigi cogwheel trains have been bringing visitors up the mountains since 1871. Still today, the ride can be enjoyed in this nostalgic and beautifully restored ambiance. The railway still runs from Vitznau up the Rigi on selected days throughout the year in the locomotives and wagons from the early days. The glint of polished metal, the smell of burning coal, the sound of hissing steam and flying sparks, and the work of the seasoned mechanics make the journey a unique experience.
Steam Travel Paradise Vitznau
Rooms with Steam History
Those seeking to extend the theme of steam travel in Vitznau can spend the night in one of the associated accommodations. Steam-powered transport plays an essential role in the history of the Hotel Vitznauerhof and the Hotel Terrasse am See.
from shipyard to hotel 
Hotel Vitznauerhof
refreshing MOMENTS, yesterday and today
Hotel Terrasse am See
Historically, the Hotel Terrasse is closely linked to the Rigi Bahn. At the present location of the hotel there once stood a drinking hall where tourists could take refreshment before riding the Rigi Bahn. Following the opening of the Rigi Railway in 1871, the associated hotel restaurants Rigibahn opened 1873, which still today under the name Hotel Terrasse.
Even the valuable chestnut trees remained and offer shade to restaurant guests on the garden terrace.