Stand Up Paddleboarding (SUP) in Vitznau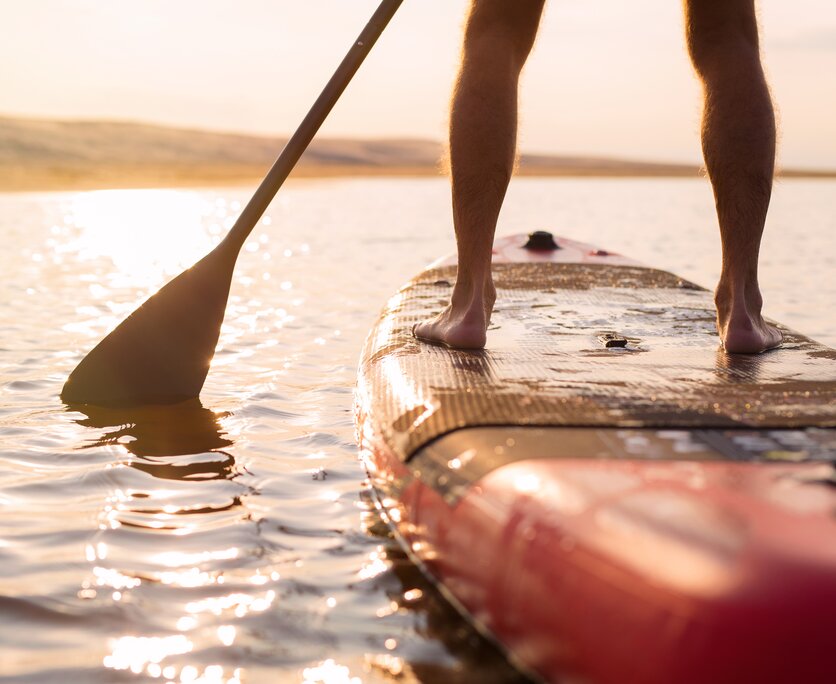 S
Stand Up Paddleboarding (SUP) on Lake Lucerne 
With a surface of almost 114 square kilometers, Lake Lucerne is a popular destination for stand-up paddlers. Water sports enthusiasts start directly from Vitznau with stand-up paddling in the direction of Gersau or Weggis. Always included: fantastic views of the Rigi massif.
Trendsport in Vitznau
Active on your SUP Board
This watersport from Hawaii has become a favorite leisure time activity in Vitznau. Equipped with a board and a paddle, your journey of discovery on the lake begins. Your own SuP can be put in the water at any bathing area.
Those without their own gear can easily obtain a SUP for a few hours.
In the Villa Kapellmatt, at the Camping Vitznau, and at the Hotel Vitznauerhof and in the Parkhotel, SUPs are available for visitors to rent or borrow.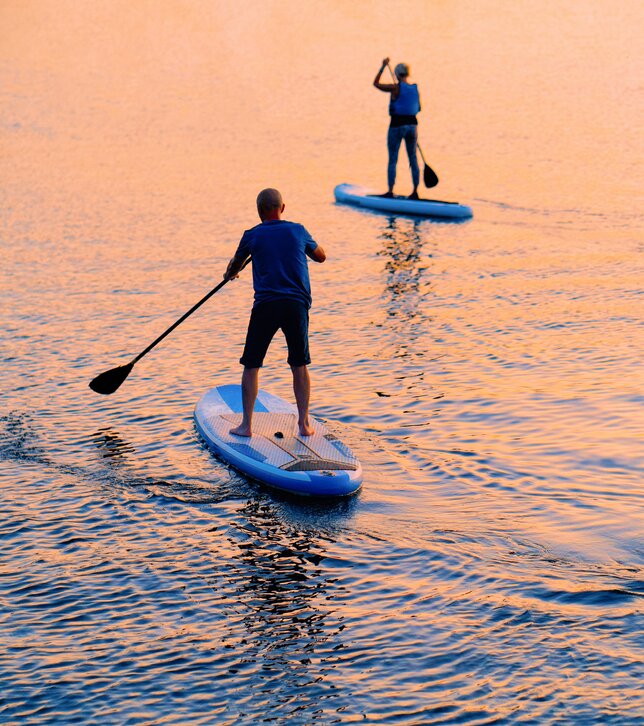 Vitznau as Departure Point for SUP-Tours
From Vitznau there are two primary ways to start a stand up paddleboard tour. On the coastal route towards Gersau, a small, charming village on the southern slope of the Rigi, paddlers experience a Mediterranean flair. The coast between Vitznau and Gersau is steep and offers dramatic views of the varied landscape of the Rigi southern slopes.
In the opposite direction, the path leads from Vitznau along the Lucerne Riviera to Weggis. The sun-drenched town on the southern flank of the Rigi has an attractive lake promenade with many fine restaurants. From the SUP you can enjoy unobstructed views of Lake Lucerne and the prominent Bürgenstock cliff with the unique Bürgenstock elevator.
Trying Out the Stand Up Paddleboard
Even beginners can paddle across Lake Lucerne after a short time and look forward to an active day on the water or enjoying the sunset. The SUP rental Villa Kapellmatt offers introductory courses during the season on Friday, Saturday and Sunday from 9:30 a.m. to 11:00 a.m. for CHF 49 per person.
Magical Twilights on the Stand Up Paddleboard
Experience sunset on the stand up paddle board. The last rays of the sun  bathe the rocks above Vitznau in a warm red. The large Swiss flag proudly presents itself on the Steigelfadbalm-Dossen, a rocky outcrop in the Rigi massif. A magical atmosphere is created in the evening silence on the gentle waves of the glittering waters of Lake Lucerne.