Horseback Riding & Carriage Rides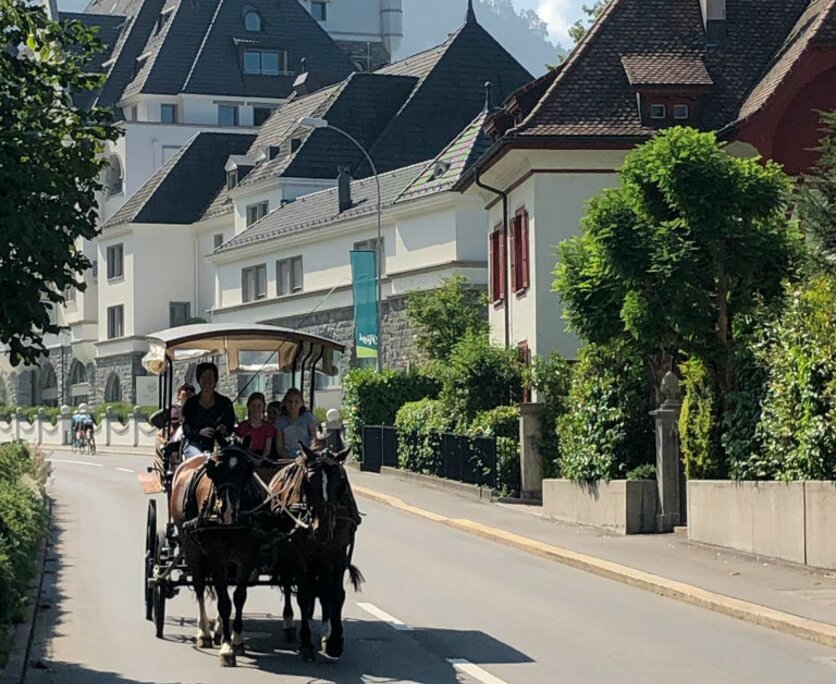 T
Adventures with Animals for Young and Old 
Gain your first experience with riding and enjoy the closeness with the horses. Or take a carriage ride into the sunset over Lake Lucerne. On the horse farm Buholz, holiday dreams come true.
Buholz Horse Farm in Vitznau
At the Buholz Horse Farm in Vitznau, the Küttel family is living their dream: looking after horses with love and sharing this passion with their guests. Riding lessons make it clear that masters with specialist knowledge and passion are at work. Generous horse boxes ensure the well being of the animals. Riding lessons take place regularly at the newly created horseback center.
Good to know: the Küttel family also owns a dairy farm, a total of around 30 hectares of meadows and cultivated pasture at the valley stations of the Hinterbergen and Wissifluh aerial tramways. There the family tends to dairy cows, calves, and cattle, as well as horses.
Riding Lessons for Children, Teenagers and Adults
Riding lessons for beginners up to primary school-age are based on the Hippolini concept. This successful pedagogical model teaches children a balanced seat, the proper care of horses, and knowledge about their maintenance attuned to the species and sensitive treatment of the animals.
Individual riding lessons are offered to children who have completed Hippolini courses, teenagers, and adults. You can also book a horseback riding excursion in the beautiful natural setting of Vitznau.
Holidays on Horseback
Children experience maximum riding fun with the holiday offers of the Buholz horse farm.
Carriage Rides through Vitznau
Exploring the area on a horse-drawn carriage is always a wonderful experience. Whether alone, in a tête-à-tête, or with the whole family, guests will always have their wishes met by the personalized offerings of Bettina and Pirmin Küttel.
Riding a carriage to your own Wedding is particularly romantic. Directly from the hotel, couples can enjoy undisturbed moments in a dreamlike atmosphere on the way to the wedding or reception.
Accompanied by the sunset over Lake Lucerne, the horse-drawn carriage ride is unforgettable.
Care to slip into the role of the coachman yourself? This is also possible at the Buholz horse farm!