Vitznau –the Magic of the Lucerne Riviera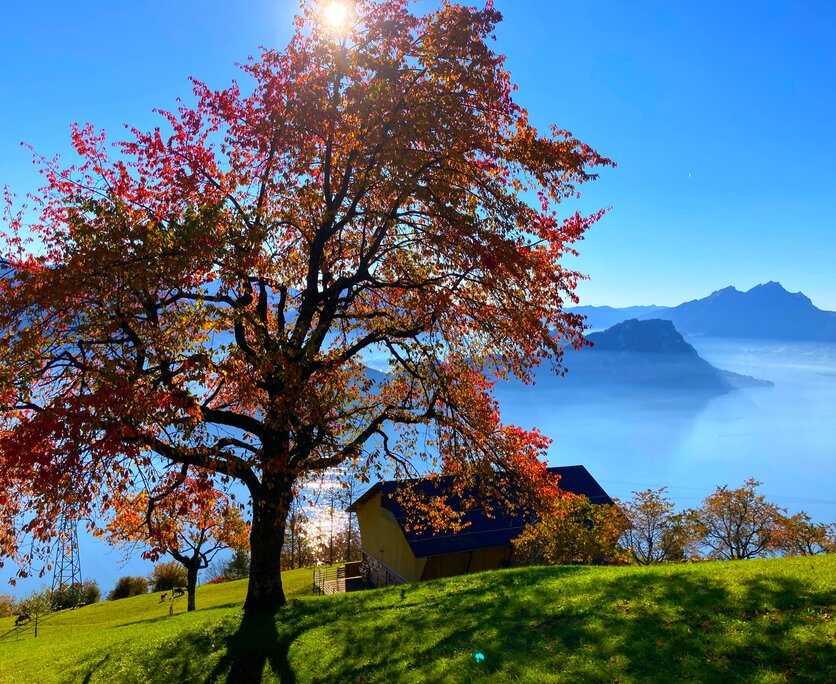 Fall Color at the Lake
The sumptuous season of autumn is back as another warm, wonderful summer takes its bow. Colors are becoming more intense and nights are growing longer. The morning air is cool and fresh, and the leaves are taking on their autumnal hues.
Fall can be enjoyed to the maximum in Vitznau, with a wide variety of activities on the to-do list, depending on the weather and temperature.
Beautiful hiking trails in various levels of difficulty crisscross the southern slopes of the Rigi, offering fantastic panoramic views.
Those seeking variety are in just the right place with the various thematic trails. The Foxtrail offers an entertaining detective journey for the whole family; the Yoga-Trail Audio Guide provides guidance for yoga routines in the great outdoors; and the Ge(h)dankenweg, or Path of Contemplation, encourages reflections upon essential life questions. The Kastanienweg focuses on the fascinating hidden history of the chestnut tree in the region and the Helsana Trail activates muscles all over the body.
The culinary landscape of Vitznau is also worth exploring. In addition to the three excellent starred restaurants Focus, Inspiration and Sens, dining venues such as the Restaurant Rigi, the Restaurant Rütli, and the Restaurant Hinterbergen welcome guests with an authentic and down-to-earth ambience.
And if you just want to unwind, you will find peace and quiet in the mineral baths at Rigi-Kaltbad.
Welcome to the Lucerne Riviera!
Forward Thinking – Indulgence and Inspiration
If you like to indulge your tastebuds, come admire Vitznau's innovative top culinary sites, visit the local market, go shopping in the organic shop, or make an excursion to local producers - there is always something new to discover in Vitznau. Guests and locals alike can savor innovative and traditional culinary concepts, opportunities for research and training, and musical delights.
health and rejuvenation 
Matters of the Heart – Nature and Tradition
The preservation of nature is a special concern of Vitznau's people. Its farms are fully committed to protecting nature and biodiversity and produce fresh, healthy products directly for Vitznau's culinary venues. The clear, cool waters of Lake Lucerne offer not only a welcome change of temperature in the summer, but also incredible opportunities to explore the aquatic world at the surface level - or from below!