Vitznau –the Magic of the Lucerne Riviera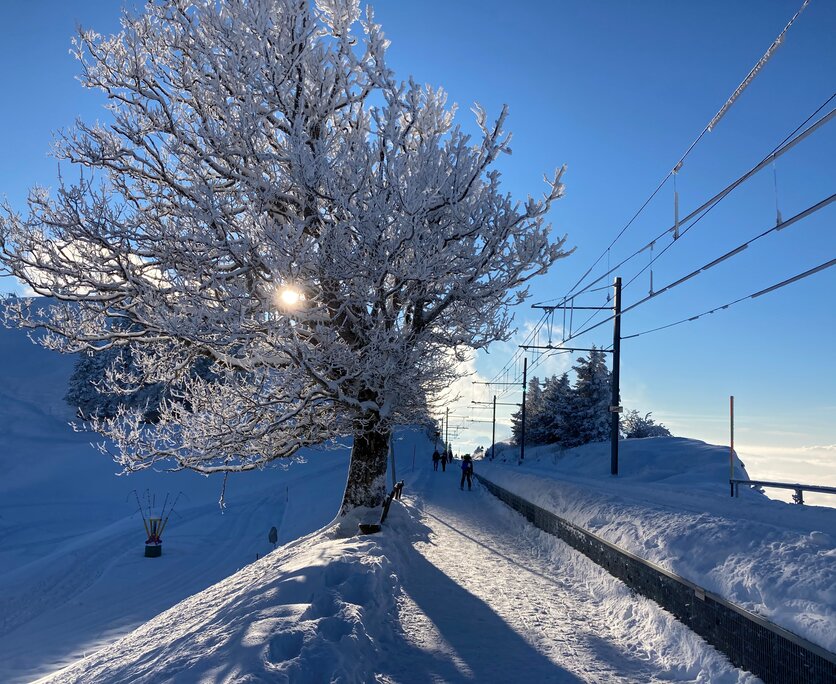 A Kaleidoscopic Winter
Winter is here at last and the stunning hibernal landscape beckons with a variety of activities. The lake is ever-changing with its mythical, atmospheric mists, while up on the mountain the sea of fog is always an incredible sight.
Vitznau has diverse offerings in winter, including various themed trails. The Foxtrail offers an entertaining detective journey for the whole family. The Yoga-Trail Audio Guide provides guidance for yoga practices in the great outdoors. The Ge(h)dankenweg, or Path of Contemplation, encourages reflections upon fundamental life questions. The Kastanienweg focuses on the fascinating hidden history of the chestnut tree in the region, while the Helsana Trail activates muscles all over the body.
The culinary landscape of Vitznau is also worth exploring. In addition to the three excellent starred restaurants Focus, Inspiration and Sens, dining venues such as the Restaurant Rigi, the Restaurant Rütli, and the Restaurant Hinterbergen welcome guests with an authentic and down-to-earth ambience.
And those who just want to unwind will find plenty of peace and quiet in the mineral baths and spa at Rigi-Kaltbad.
Welcome to the Lucerne Riviera!
Forward Thinking – Indulgence and Inspiration
If you like to indulge your tastebuds, come admire Vitznau's innovative top culinary sites, visit the local market, go shopping in the organic shop, or make an excursion to local producers - there is always something new to discover in Vitznau. Guests and locals alike can savor innovative and traditional culinary concepts, opportunities for research and training, and musical delights.
health and rejuvenation 
Matters of the Heart – Nature and Tradition
The preservation of nature is a special concern of Vitznau's people. Its farms are fully committed to protecting nature and biodiversity and produce fresh, healthy products directly for Vitznau's culinary venues. The clear, cool waters of Lake Lucerne offer not only a welcome change of temperature in the summer, but also incredible opportunities to explore the aquatic world at the surface level - or from below!