Fast-paced fun on the Rigi
Sledding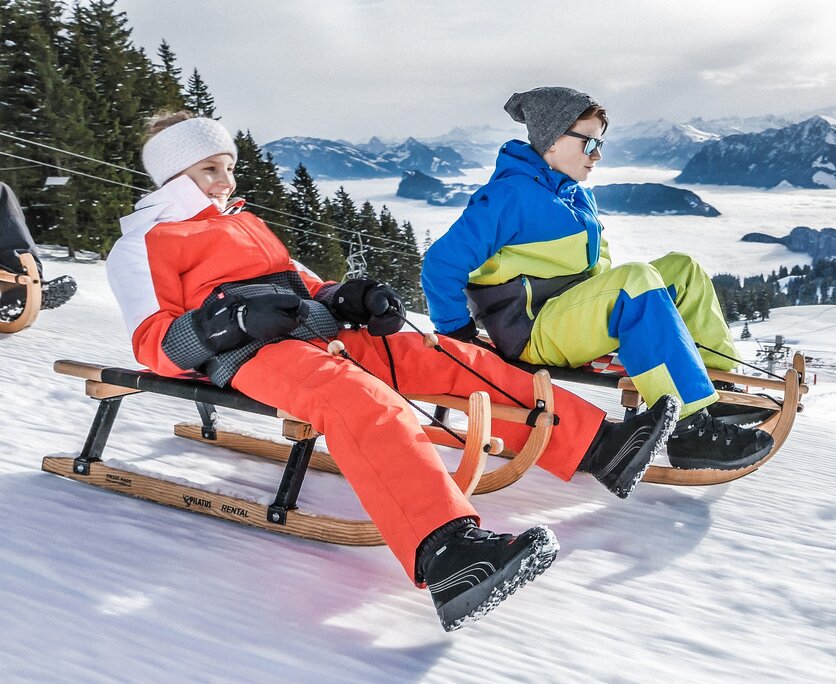 W
Winter Adventures for the Whole Family
Relaxed up the mountain with the Rigi-Bahn, adventurous into the valley on the sled: the Rigi is the ideal starting point for sledding. Whether you're on a getaway for two, a weekend with Ferien mit Freunden oder im Familienurlaub, tobogganing is fun for everyone.
The most popular run is from Rigi Kulm to Rigi Klösterli, whizzing down into the valley on various routes up to four kilometres long. The magnificent views of the surrounding Swiss mountains constantly surround you on the descent.
And because the second time around is even more fun, special trains run continuously to carry sledders back to the start. Once there you can either choose the same route again or choose a new adventure.
Further toboggan runs start from Staffelhöhe or from Rigi Burggeist.
Culinary Stops on the Rigi
Sledding awakens the appetite, which is exactly why the paths are dotted with restaurants where you can warm up and build strength for the onward journey.
Stop and enjoy: that's the motto on the sled run from Rigi Kulm to Rigi Kloesterli via Schwändi. The route leads directly past the Chäserenholz alpine farm. If you don't make a stopover on beautiful, fog-free winter days, you'll miss many Swiss cheese specialties. With great love for the craft, the Älpler Franz-Toni Kennel puts up up to 12,000 kilograms of cheese.