Restaurant
Gruebisbalm Cave Event Space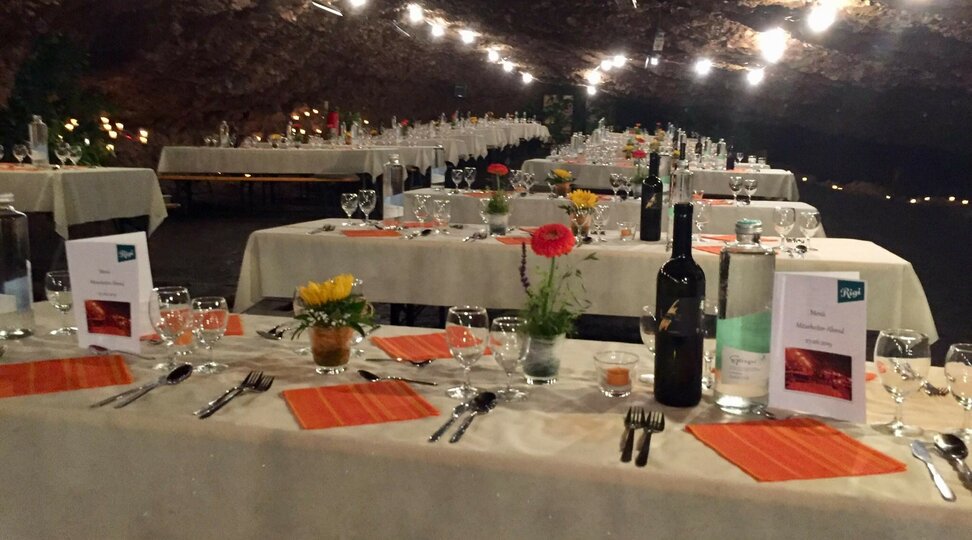 A Special Events Location
Even the way to this location is an experience. With the Vitznau-Rigi-Bahn, guests ride to the Gruebisalm at 900 meters above sea level. From the mountain train station, a path leads through an idyllic forest and meadow landscape to the cave.
After about ten minutes you will reach the cave entrance. Even the outward appearance is impressive. The path to the cave leads directly past a waterfall. The interior can be customized according to the individual wishes of the guests. A total of 400 people can be accommodated.
Especially nice: when the cave is decorated with hundreds of candles on the lake and on the walls and in the evening the path is illuminated with a chain of lights and the waterfall. A magical place high above the lake and Vitznau!
Depending on the number of guests, the cave room can be separated with wooden walls for 50 people or more. The cave can be booked through the Öko-Hotel Gruebisbalm from April to October.
Facilities include:
wooden benches and wooden tables
a stage
electricity and toilets
heating (if required)
Practical complete package: The eco-hotel Gruebisblam offers a large selection of food and drinks and also puts together the desired entertainment program. Individual all-inclusive offers can be prepared on request.
Address
Gruebisbalm 3
6354 Vitznau
Switzerland